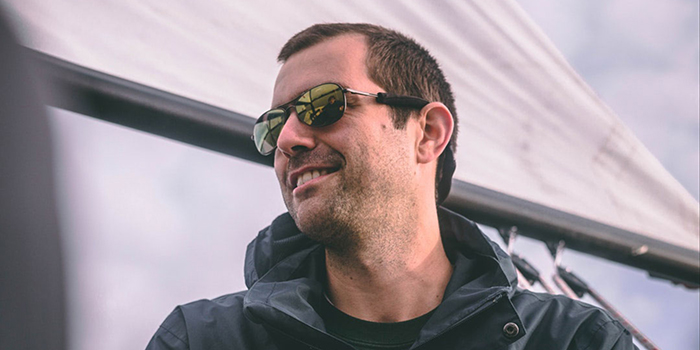 As a FERS Federal Employee you have a three component retirement system, FERS Pension, Social Security, and Thrifts Savings Plan.
Depending on your Minimum Retirement Age (MRA), with at least 30 years of service you can begin receiving your FERS annuity payments at as young as age 55. Generally, it's not until age 62 that you're also eligible to start receiving your second retirement component: Social Security payments.
This means you could be left with a gap of up to seven years in which you are unable to receive funds from a component of your retirement.
But did you know that you could be eligible to receive a pension supplement to help bridge this gap? This benefit is referred to as the FERS Annuity Supplement, or just FERS Supplement. It's a really wonderful benefit, paid only to eligible retirees until the earliest Social Security age begins at age 62.
---
HOW DO I QUALIFY FOR THE FERS ANNUITY SUPPLEMENT?
Any retiring federal government employee may qualify for the FERS Supplement if they…
Have a minimum of 20 years of service and are between ages 60-62
Have reached their Minimum Retirement Age (MRA) and have 30+ years of service
First, you need to know how much you are estimated to receive from Social Security at age 62. This can be obtained by using the Social Security Quick Calculator on the Social Security Administration website.
Next, divide your years of creditable service by 40, and you'll end up with a percentage.
Take this percentage and multiply it by your estimated Social Security benefit amount at age 62. This final figure is now your FERS Supplement, which could be available to you starting from your retirement date until you are eligible to start Social Security payments at age 62.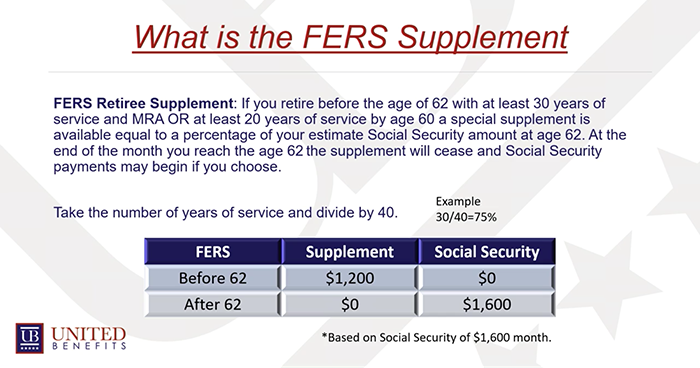 AN EXAMPLE OF CALCULATING YOUR FERS SUPPLEMENT
Let's say, for example, your Social Security at age 62 would pay $1,600 per month. Assuming you have 30 years of creditable service, then your Supplement would equal 75% of that estimated social security amount of $1,600. This means you would receive $1,200 per month until you reach 62 years old– at which point you will start receiving your Social Security benefit in full.
---
DID YOU KNOW THE FERS SUPPLEMENT IS SUBJECT TO THE SAME INCOME MEANS TEST AS SOCIAL SECURITY?
To find out more, contact United Benefits
United Benefits has assisted thousands of federal employees on several impactful topics. We can help you, too. Ask us anything!
Click here to request a consultation and talk one-on-one with a representative about the options available to you.
---